Pink diamonds have always held a long and interesting history~ Sothebys had an auction on October 7th 2014 in Hong Kong titled "Magnificent Jewels and Jadeite". A 8.74cts pear shaped fancy intense pink diamond had garnered alot of attention and was estimated to sell $12.8 Million - $15.4Million. So notably it was a possibility that this unnamed pink IF diamond could sell for more than the estimate (as it happen often). And it did! This magnificent diamond sold for an incredible jaw dropping price of $17.7 Million dollars! It actually went over the original pre auction estimate by $2 Million dollars. The diamond was cut from the rough that weighed 19.54cts.
To give you a little history about another notable pink diamond that created a stir at auction was the 24.76cts Pink Graff, a fancy intense pink pear shaped diamond sold to Lawrence Graff, in Geneva in November 2010 for more than $46.1 million. The record price per carat for a fancy vivid pink diamond is more than $2.1 million per carat set by a 5-carat diamond sold in Hong Kong in January 2009 for more than $10.7 million.
The jeweler putting the finishing touches on the fancy pink purple diamond
Fancy pink Purple Diamond IF , only $17.7 Million dollars



This is what a $4.3 Million dollar ring looks like~
Jadeite has always been considered an important gem/mineral for people of Chinese culture have coveted. the color and quality of these interesting stones is a difficult one to understand, kind of like Colombian Emeralds. Here is what the EGL says about Jade and the importance of the stone~
"The importance of Jade stone in Chinese culture is reflected in its status as a symbol of goodness, preciousness and beauty. To the Chinese, jade stone is also the embodiment of the Confucian virtues of courage, wisdom, modesty, justice and compassion. The polish and brilliance of jade stone is considered by the Chinese to be representative of purity while its compactness and hardness reflect intelligence. Justice is represented by its angles and the sound produced by it when it is struck is a symbol of music. The color of jade stone depicts loyalty while its flaws reflect sincerity. The Chinese also value jade stone because of its brightness; representing heaven, while its substance is representative of the earth."
The Sothebys Magnificent Jadeite and Gems Auction had amazing pieces of jadeite carvings and many items of jewelry. The most expensive item of jadeite that sold was a pair of jadeite and diamond earrings , called "Jadeite Peapod "for $933,056. ( Jadeite and Jade are the same thing~)
Jadeite Peapod earrings sold for $933,056
51.24cts Fancy Intense Yellow Diamond and Diamond Necklace Lot# 1940, did not sell pre auction estimate $1.5 Million - $1.8 Million
An excellent sapphire and diamond ring sold for an unprecedented $4.0 Million dollars. It was one of two sapphire rings that actually broke world records for winning auction price per carat at $236,404.
An exceptional and very rare sapphire and diamond ring pre auction estimate $2.8 Million - $3.6 Million 17.16-carat Kashmir sapphire & 6.0tcw diamond ring sold for $4.06 million ($236,404 per carat)
Lot # 1936, a 5.32tcw fine fancy vivid blue diamond ring sold for an incredible $5.3 Million dollars. The color of the diamond is gorgeous, and one not always seen. The blue diamond itself is IF (internally flawless) and weighs 2.32cts and the two trillions weigh 2.0tcw.
Fancy Vivid Blue Diamond and Diamond Ring sold for $5.3 Million dollars, pre auction estimate was $3.3 Million - $4.3 Million
Of 339 items listed for Auction only 239 found buyers. For this type of auction the percentage of not sold items seems a little high.
When historic sized or colored gems or piece of jewelry are on the agenda for an auction, auction lovers get excited. The Feuilles de Groseillier brooch is historical piece of jewelry that has a long line of history will be auction at Christies in Geneva on November 11th 2014. It was commissioned by the French jewelers Bapst in 1855. Of the French monarch jewelry, very little is left to this date.
Feuilles de Groseillier brooch
This brooch hasn't been seen at an auction for 125 years. the historic jewel is estimated to sell at $2 Million - 3 Million dollars.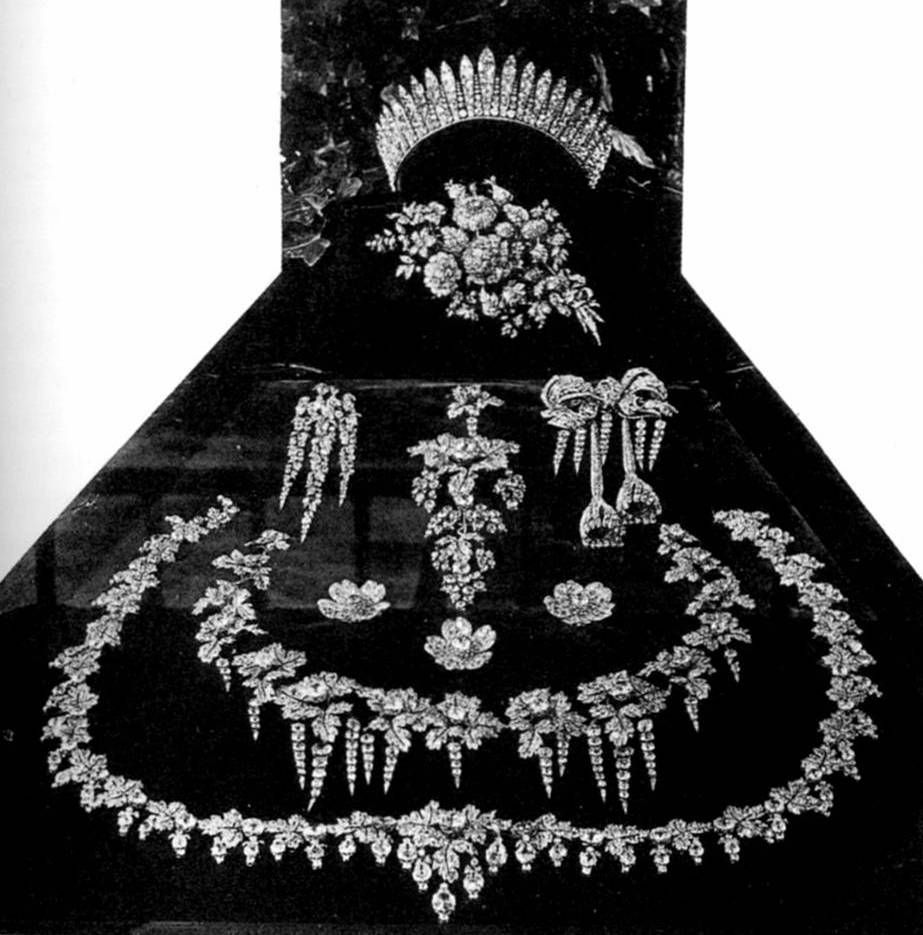 The French Royal jewels that were auctioned in 1887 after Napoloen III was over thrown. The brooch was one part pf the parure.Jewelry houses Tiffanys, Garrard and Bapst purchased a majority of the lots.
The French jewels that were auctioned in 1887, and an explanation to what happened to them after the auction is unknown. Usually when jewelry is handed down for generations the prices are kept in tact. Or a sad possibility is that they could of been dismantled and then sold.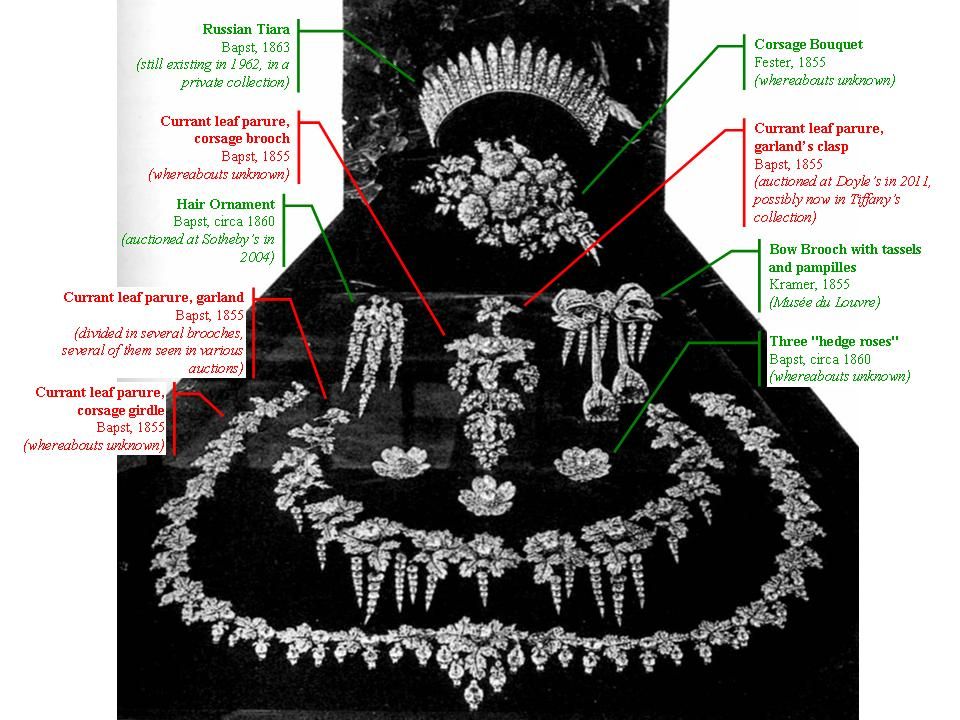 While on the topic of auctions Laureen Bacall, a screen actress that made countless classic movies with Humphrey Bogart ( who eventually became her husband, their screen chemistry was sizzling) had passed away in august 12th at the age of 89, it was a question as to when her personal items would come to an auction house. Bonhams auction house that is headquartered in London is auction her impressive 700 item art collection in March of 2015. She began purchasing Henry Moores items in 1950 and owned 8 of his sculptures. There are only a few pieces of jewelry that will be in this auction. the pre sale estimate if $3.0 Million Dollars. She did have a clause in her will ( she left money for her 3 adult children and her little dog, Sophie) that stated,
'I request that my children respect my wish to keep private certain personal letters, writings, diaries and other papers or memorabilia,' she wrote in her will. Which is refreshing, who wants to know every detail about a movie stars life?
A true stunner, at 19!
But with the extent of her art, its possible that the pre auction estimate price could go higher. I think its always interesting how celebrities decorate their homes and what art they like to collect. She was such an intensely private person, it'll be a treat to get a glimpse into this part of her life. Here's the link to the auction house,
https://www.bonhams.com/press_release/17636/
Lauren Bacall & Henry Moore in front of Two Piece Reclining Figure No. 3 (1961), in 1977



Henry Moore's Maquette for Mother and Child: Arms- pre auction estimate between $150,000 and $200,000

On a side note, she had donated more than 700 garments ( from the 50's and 60's) to the Museum at the Fashion Institute of Technology (in new York) before her death. They are planning an exhibit in 2015, spring. No actual date has been set yet. id be interested to see her clothes. She was always so elegant and is still to this day a source of inspiration to designers. Here is a link to their website (looks like some great exhibits!)
http://www.fitnyc.edu/museum.asp
Until next time, keep sparkling!!